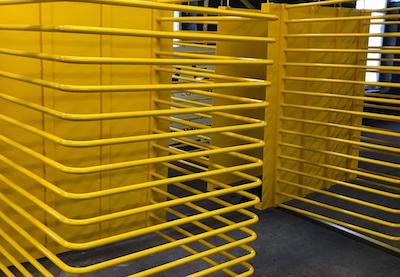 Do you need a powder coating solution near Bradford?
We provide Powder Coating Solutions for businesses and individuals in and around Bradford. We only used the finest quality powders and always pre-treat our work correctly to ensure a tough, durable finish to our coatings. We are trusted by many Yorkshire fabrication firms to offer the best service in the area. We can powder coat anything from a door handle or alloy wheel up to a 6m wide roller shutter or sliding gate in our 6m long box oven. Based in Brighouse, West Yorkshire, we are a short drive from Bradford. Give us a call or email now to discuss your requirements.
Why use Powder Coating?
1. Very Efficient - Thanks to the electromagnetic charge used to hold the powder to the part, there is very little waste created in the process. In addition, your coating professional can spray as much or as little powder as needed in a single application. Rather than waiting for each coat to dry before applying the next, this is all done in a single step, and will still cure evenly. This saves time and money in operating costs.
Learn More
To enquire about a powder coating company serving Bradford, contact us today.
07772097984 01484 766570 sales@riverpowdercoatings.co.uk